10 Best Digital Signage Content Ideas for the Gym
Though digital signage is practical and fantastic for almost any business, it is particularly a perfect fit for athletic or fitness gyms. If you are a gym owner looking for ways to improve your facilities, digital signage is the answer.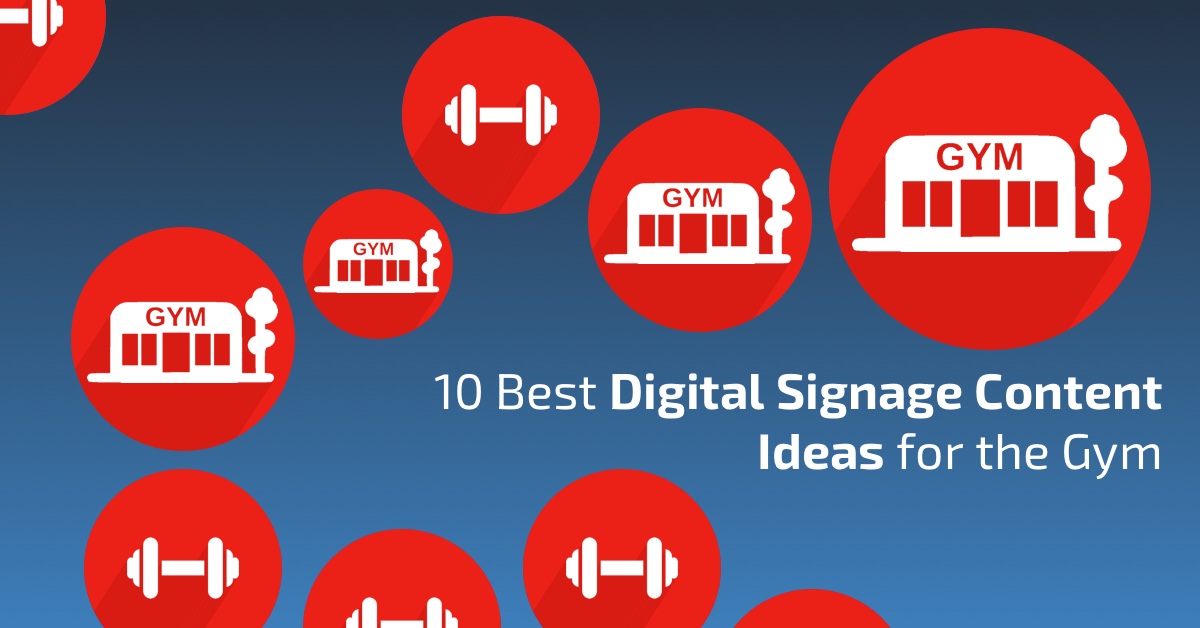 You'll also want to keep reading because today we are going to give you our 10 best digital signage content ideas for the gym. 
Why Use Digital Signage At Your Gym?
Before we get to the various content you can display, let's take a look at just a few of the many benefits digital signage offers your gym.
High Foot Traffic
Gyms have high foot traffic which is excellent for digital signage because it means that you have a large audience. Digital signage allows you to get information and content to a number of new people every hour and day. Not only is it rewarding that a lot of people will see how much effort you put into your content, but it also is helpful for the next two benefits. 
Drive Retention, Engagement, & Sales
Give people something to look at in between their sets! Digital signage drives increased retention, engagement, and sales. By putting up dynamic content that is interesting, helpful, and entertaining, patrons are more likely to hang out longer, keep coming back, and interact with the things you display on your screens. That means you retain more members who are happy and tell their friends to also join your gym. 
Income Potential
Digital signage can bring in an additional source of income. Because you have high foot traffic, you are in an opportune position to utilize your screen to advertise. There are infinite things you can advertise to monetize your digital signage content and generate additional income. We'll give you a few suggestions below. 
10 Best Gym Digital Signage Content Ideas
Here's what you have been waiting for– the 10 best digital signage content ideas to use at your gym. 
Check-In Area Digital Signage
The check-in area is probably the most important place in your gym to include a digital signage screen. After all, this is likely the only place in the gym that you can guarantee every person is going to see no matter their workout. 
In the check-in area, it is helpful to put instructions for new members, reminders for returning members to scan their membership cards, and any upcoming announcements you need everyone to know about. 
Play Form Videos For Exercises – How to Use the Machines
The gym is unapproachable for some people because they don't know how to use the different machines. By not providing an easy resource for your patrons to reference, you are losing out on a whole group of potential members. 
For those who are just starting on their fitness journey, a video showing the use of popular machines in your gym can make all the difference in them choosing your gym versus the competition. 
Show Class Schedules
Do you have group fitness classes? Printing out paper schedules are outdated. Everyone loses them and you are constantly wasting money printing new ones. Instead, display your class schedules outside of the rooms or in common areas to give everyone easy access and save you money!
Showcase All You Have To Offer
No one will know you are the best gym in town if you don't tell them what sets you apart from the rest. Use your gym's digital signage to showcase all you have to offer. 
From private training to group classes, extended hours, spa-like locker rooms, or the most advanced equipment, get specific about why potential members should choose you and why current members should tell their friends. 
Entertain and Educate Members with "Infotainment"
Infotainment is the practice of using the information to educate while being entertaining. For gym digital signage content, this may look like a video with the top 5 tips to speed up your meal prep or fun, healthy recipes. You could also give the benefits of cardio or how to strengthen particular muscle groups. 
Regardless of the information, you give, ensure you use bright colors, videos, animations, or any dynamic content elements to keep it entertaining and not dry. 
Motivate Members with Success Stories
Maintaining a consistent fitness-focused lifestyle can be difficult for the majority of people. Keep your members motivated and coming back to your gym each day by displaying inspiring success stories! Everyone loves a good success story and it makes us feel like we can do it, too. 
Give Meal Prep Tips
As we all know, hitting the gym each day is only half of what it takes to maintain our physical health. Much of our success with physical fitness comes from fueling our bodies with a nourishing diet. Help out your members by sharing your best meal prep tips so they can implement them easily into their routines. They will be forever grateful when they see the effects. 
Introduce Your Personal Trainer Squad
Do you have a team of personal trainers? Use your digital signage to introduce them! Unfortunately, personal trainers can seem intimidating, so show how great and approachable your staff is. 
Get a little silly with it, film a video of them introducing themselves or a big smile in a photo to ensure your members know that your personal trainer squad isn't something to be hesitant about at all. 
Tell Members When Your Current Hours Change
Sometimes as a gym owner, you have to change your operating hours whether it be to staffing issues, slow seasons, or operating expenses. Regardless of the reason, your members will need to know about it. There is no better way to be certain your members are aware than by putting it loud and clear on your gym digital signage screens. 
Display Workout Machine/Equipment Wait Times
If you have a particularly successful gym, it's very likely that during peak times before and after 9-5 jobs that some of the popular machines and equipment end up with a wait to use them. 
Instead of someone being interrupted multiple times during their sets, consider displaying estimated wait times near the popular machines or use a tablet digital signage screen so that members can join a waitlist and be notified when it is available. 
This is a content idea that will for sure set your gym apart from the rest. 
Make Revenue with Sponsored Content 
We briefly mentioned above that additional income potential is a fantastic benefit of gym digital signage. So now let's talk about how to use it for that. 
For one, you can make revenue with third-party gym advertisements. You have high foot traffic and digital screen space, so place paid advertisements from other related brands into your content. 
Simply charge for the space and duration of the ad and manage it all from your Play Digital Signage account. It is easy money! 
Additionally, you could also make revenue with sponsored content through affiliate marketing. Get a discount code from a meal delivery company or an athletic wear company, display an advertisement of it on your gym digital signage, and collect a small percentage of each sale you bring in for the brand. 
There are a ton of ways to offset the cost of digital signage and make extra revenue without much work on your behalf, but these are the two most common. 
Raise Your Social Media Game
Social media is vital to a business's success nowadays. Take your social media to the next level by displaying it on your digital signage. Not only will people see it and follow it, but you have also worked hard on creating your social content, so you might as well use it in every way you can! 
Top gym Signage Features for Gym Owners
Play Digital Signage is your all-in-one powerhouse for implementing dynamic digital signage as a gym owner. 
Our plugins like Facebook and Instagram are perfect for adding your social media, while a website plugin allows you to display the content from your website without having to copy the information over. Play Digital Signage also supports high-definition photos and videos for those team introductions and machine instructions. 
With our zones feature, you can have screens display different content on screens in different areas. Not to mention, you can update your digital signage from anywhere with an internet connection and any of the major operating systems. 
Play Digital Signage has what you need as a gym owner to curate gorgeous digital signage that brings you revenue, engagement, new members, and more. 
Need Help With Your Gym Signage? 
Have more questions about gym digital signage? Here at Play Digital Signage, we are always here to help. Reach out today!
Some of our customers
We have a bunch of customers with larger as well as smaller gyms running digital signage.