Change content with a snap of a finger.
One of the many benefits of digital signage is the level of customization and control. You can customize everything from the hardware to content, schedules, and groups. Today we are going to be talking about digital signage tags, which is a feature we offer that is yet another way to control your digital signage content easily.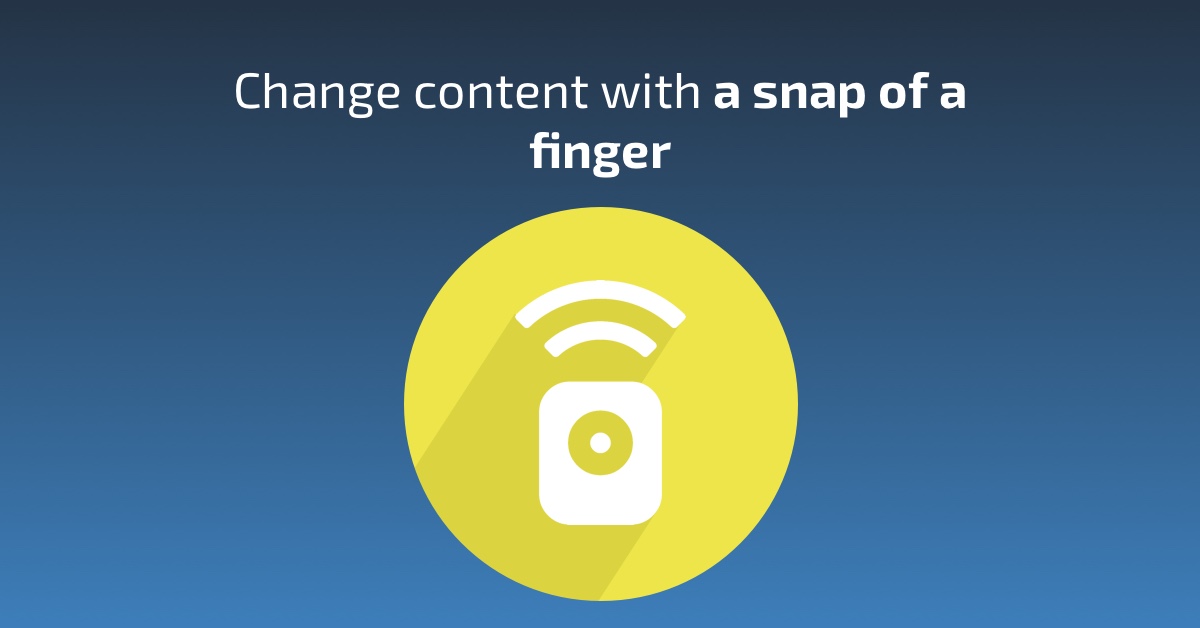 Let's take a deep dive into what digital signage tags are, how to use them, and more.
What is a Public API?
Before we discuss what digital signage tags are, it is important to understand public application programming interfaces, better known as APIs. In the simplest definition, an API is a software middleman so that two different applications or computers can talk to each other. 
A public API offers a way to connect to our digital signage service from a computer, for example, to a server or another cloud-based service. This way it is possible to remotely control certain functions of your digital signage. 
What is Digital Signage Tags?
Tags are directly related to our public API but will work without the API also. Tags are the connection between your digital signage and the public API making it possible to change content on one or more screens remotely, by machine, or by the click of a button. 
So, to summarize the relation between tags and the public API, the public API connects Play Digital Signage which lives in the cloud to your digital signage hardware while tags connect individual pieces of your content (like playlists) to the public API. 
Setting Up Digital Signage Tags
When setting up digital signage tags with Play Digital Signage, you have a lot of freedom in the final product. The button to create tags can be found by going to your profile name in the lower-left corner which will bring up an option that says "Create a Tag". From there, you'll have options to choose from which you'll make your decisions based on the goal you are trying to achieve. 
Tags can be set up, for example, for one, several, or all screens to change content instantly for "x" amount of time and whether you want the public API to trigger the tag or whether you want to manually click a button to trigger the tag. Simply choose the screens and the content (existing playlists) you want to be triggered, the trigger method, and length time then hit create! 
Uses for Digital Signage Tags
There are two big uses that make digital signage tags an awesome feature.
Pre-create Playlists
For those running dynamic content, like retail stores, coffee shops, etc., you can now pre-create a playlist with offers, news announcements, or information you need to convey to visitors swiftly. 
The content is readily available because you have pre-created it and set up tags, so all you would have to do is trigger it for the amount of time you wish. This can be triggered at any time either by PC or mobile and by any members of the team even if you are not in the same physical location as your digital signage screens. 
Emergency Strategy
Emergencies are always good to plan for especially if you have a business with high foot traffic.  
Many schools, factories, universities, hotels, and resorts have emergency services to be able to control lights, locks, and open and close doors remotely. They also frequently have emergency signs posted for fire exits. With our tags, these businesses and locations are also able to control the content on their screens. 
To do this, the content is created in advance, then our public API is linked to their emergency service. Whenever there is an emergency, the API will trigger the digital signage emergency strategy. 
For example, in case of a fire, all TVs would display a fire warning and perhaps a route to the nearest exit. It's all controlled by machines, meaning you don't have to manually change or click anything in the case of an emergency.
Help with Digital Signage Tags
Though setting up digital signage tags with Play Digital Signage is pretty easy, we all need a little help when it comes to technology sometimes. That is why here at Play Digital Signage, we have ensured that you have all the resources you need to get help when you need it. 
Help Section with Video
Our extensive online help section has a plethora of resources that you can access at any time. You'll find step-by-step directions, accompanying videos, tips, technical specifications, and more on almost anything regarding the Play Digital Signage software. And don't worry, we have an entire page dedicated to assisting with digital signage tags including a video walkthrough example. 
24/7 LIVE Chat Support
If you just can't find what you are looking for or want help with your specific situation, we have just the thing. Our 24/7 LIVE chat support connects you to a REAL person that is an expert on Play Digital Signage. No matter the time, you can get personalized help by simply going to our website and clicking the chat icon at the bottom right corner of the screen on every page. 
Use Digital Signage Tags with Play Digital Signage
Digital signage tags are a fantastic feature that we offer at Play Digital Signage, but of course, it isn't the only one. From royalty-free media to social media plugins, our features are extensive and we are always adding new ones to fit your needs. Take a look at more of our features here. 
Additionally, we offer compatibility with every major operating system, a simple pricing structure so you only pay for what you use, and even have a ten-screen free trial so you can get familiar with our system and create your content before ever spending a dime. 
Ready to get started creating digital signage content and setting up your tags? Get going in just three easy steps.
Sign Up Today
First, sign up at playsignage.com or download the Play Digital Signage App from your favorite app store. We will only collect some basic information and never any credit card or billing information until you are ready to go live. 
Then pick your screen. It can be as big as a video wall or as small as a tablet. You also have the choice of whether it needs to be a touchscreen or just visual. 
Finally, choose your player. Though you can choose a media player with any of the most common operating systems with Play Digital Signage. If you need help deciding between players, our tested list may help.