Free Digital Signage with Play Digital Signage
Digital Signage has been around for many years now. Many people think that it is something that can only be afforded by large companies who make millions of dollars a year and create massive billboards in Times Square and have technologically advanced offices with a TV on every wall. When really, digital signage is for all companies big and small, and that's why we offer you free digital signage when only having one screen. At Play Digital Signage, we are here to tell you that whether your business is a Fortune 500 company, or just getting started, digital signage is for you. 
One thing that makes Play Digital Signage special is that we offer a free screen. That's right, free. No credit card or billing information required. We want you to experience everything that Play Digital Signage has to offer without all of the pressure. 
Our free screen applies forever. There is not a timeline in which you have to upgrade or add another screen. Whether it takes 2 months or 2 years, we know you'll see the impact Play Digital Signage can have on your business. 
What Is a Free Screen?
When we say that we give you a free screen, we give you the digital signage software to be able to connect to one screen. All you have to do is find a player and a TV. 
So if you already have an extra TV and say an Amazon firestick for example, then you have everything you need for your first digital signage screen. If you don't have any of these things laying around, there are affordable options that will get you started. 
Are There Any Limitations?
Now you must be thinking, well if they are giving the screen away for free, there have to be limitations. No! We give you complete access to all of the features we offer. There is no limit on storage, traffic, number of users, elements available, etc. 
We don't want you to just have a small taste of what we provide, we want you to see all of the features in detail because we know that you can't get a real feel of a company by just trying it in a limited setting. 
Play Digital Signage Features
Here are some of the Play Digital Signage features that we give you unlimited access to while using our free screen. 
Creating Teams and Zones
Unlimited Storage
File Conversion
Alerts and Notifications
Access to Royalty-Free Media
Scheduling
Plugins
And so much more!
Take a look at a more detailed list of our features here. You'll be surprised at how well-equipped the Play Digital Signage software is.
Our Goal
Our goal is to make sure you have the time to test our software and become comfortable before expanding it to meet your business's needs. 
However, if you try the free screen and find that you don't need any others for now or even forever, the screen is still free forever. Need just one digital menu right now? We have your free solution. 
How Digital Signage Can Help Your Company
Digital signage is something that every company could benefit from. In this increasingly digital age, customers expect companies to keep up.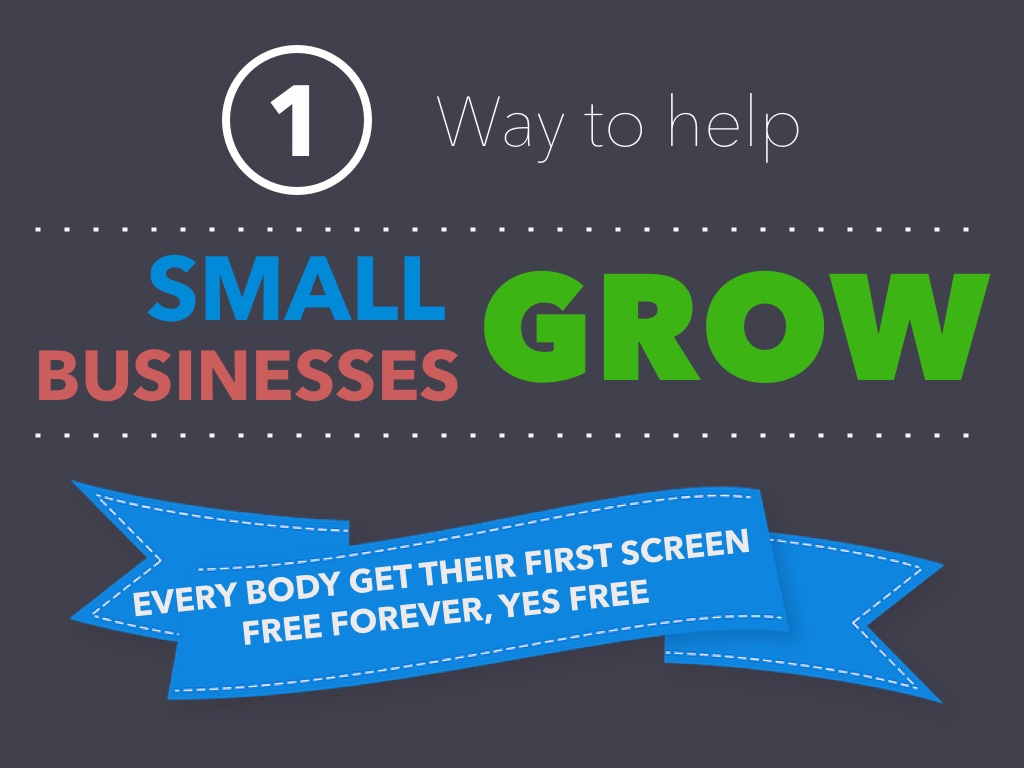 A great way for a small company to keep up with their large corporation is through digital signage. It allows you to increase your customer engagement and expand your marketing without a large budget. 
For large corporations, it is a good way to provide a team environment and greater marketing efficiency. 
What Do We Get Out Of It?
We give you a free screen, but how does that help us? Well, we know that people talk. If you are completely satisfied with your experience with Play Digital Signage, you will likely tell all of your other business owner contacts. 
Everyone knows that networking is a great way to make connections and there is no better way to market than word of mouth. You are more likely to trust a company that your friend or well-respected colleague has recommended than just someone giving you a sales pitch. 
Users, even just using our free screen without limitations can refer us to new customers that also have a chance to try it without losing anything. 
The best part is that we treat all of our customers the same. It is one of our values. We believe that every happy customer is a win even if they are only using the free screen. We offer the same support for our large companies with multiple screens as we do for our small businesses with just one or two screens.
Our support extends from a detailed help section and 24/7 live support all the way up to virtual, live detailed demos that can walk you through even the most advanced features of our product. We will always give you the support you need no matter how many screens you use.
Why Not Just A Free Trial?
So why don't we just offer a free trial? Wouldn't that be better for business? Well sure we could probably make money by collecting billing information and charging people after a week, but that certainly wouldn't make for as many happy customers as offering a free screen does. 
We want you to see the same thing that we see in our product and that is the ability to help lead others to success. Our goal is not to trap you into liking our product because we know that if we give you the opportunity to truly try it out without limitations for free, you'll love it as much as we do. That is why we give you the first screen at no cost and don't even collect any billing information until you decide you want an additional screen. 
Is The Free Screen Safe?
Of course, safety is always a concern, especially on the internet. There are people out there that are looking for trouble. We want to assure you that even though we offer a free screen, that it does not mean that your information and content isn't safe. 
There are many measures that we put into place to make sure you are less exposed to the vulnerabilities of the internet. Just because it is digital doesn't mean that it is unsafe. Here are some of the things we do to keep your data secure. 
Two Factor Authentication
Two-factor authentication is where we ask that you provide two separate pieces of information to make sure that we know it is you. This typically only takes a few seconds longer but provides a large extra layer of security. 
An example of this might be that you provide your username and password like always and then also answer a preset security question. You have likely seen this method on other websites, and that is because it works. 
It is much easier for a hacker to use a password cracker and get into your account than it is to have to crack your password and then figure out the answer to a question that you only know the answer to. 
Password Validator
Additionally, we have a password validator which means that if the password you are using is found in any public databases, we will notify you and ask you to change your password. On a normal basis, people don't have the time to search the internet and make sure that their passwords are secure. That is why we do it for you. Now keep in mind that we only have access to public databases, not any passwords that private databases might have.
Login Options
Finally, we also provide many different login options. For your Play Digital Signage account, you can log in using four different methods. You can use your Google, Microsoft, or Facebook account, or you can create your own separate login for Play Digital Signage. 
This makes your account more secure because for anyone to be able to hack it, they would first have to figure out which login method you use. Combine the login options with the two-factor authentication and your account has three walls of defense against anyone with the wrong intentions. 
Of course, even though we provide several lines of defense against hackers, you should always practice good password safety like changing it often, including a mix of capitals, numbers, and special characters, as well as keeping separate passwords for separate accounts. And most importantly, don't share your passwords! 
How To Get Started With Play Digital Signage
First, sign up here. We will ask you for some basic information and you'll gain access to our content management system with a built-in editor. 
Then you'll pick a screen. This can be a tablet or a TV, but there are many options as we support almost any screen for your convenience. Big or small, it is up to you.
Finally, find a player. There are a lot of options when it comes to players as well, but we have tested some of the best in every price range so that you don't have to. Learn more about how to find a player here. 
Keep in mind, there are some devices that work as both a screen and a player like an Amazon tablet. A combination device could be a money-saving option for those just getting started or if you need multiple screens.
There you have it, follow those three steps and you'll be on your way to trying out your free screen with Play Digital Signage! 
If you get stuck along the way, don't forget we are here to support you. Simply visit our help section or chat with us using the chat feature on our website. 
Not Sold Yet? 
Play Digital Signage Reviews
With the internet becoming critical in the decision-making process of customers, online reviews are important. Check out some of our online reviews and let our current customers tell you why they are so happy with Play Digital Signage. 
If you are a current customer, we would really appreciate your opinion! Please help others and leave a review here. We check and reply to the reviews so that you know we actually check them and take suggestions from there. We love hearing from our customers. After all, we want Play Digital Signage to meet your needs.