HTML Widgets For Your Digital Signage Content
The world of HTML widgets is vast. HTML widgets are used for so many things. Over the years, different ways of creating and implementing widgets have come about. Since 2014 HTML5 is the de-facto standard for web development, it stands for HyperText Markup Language version 5.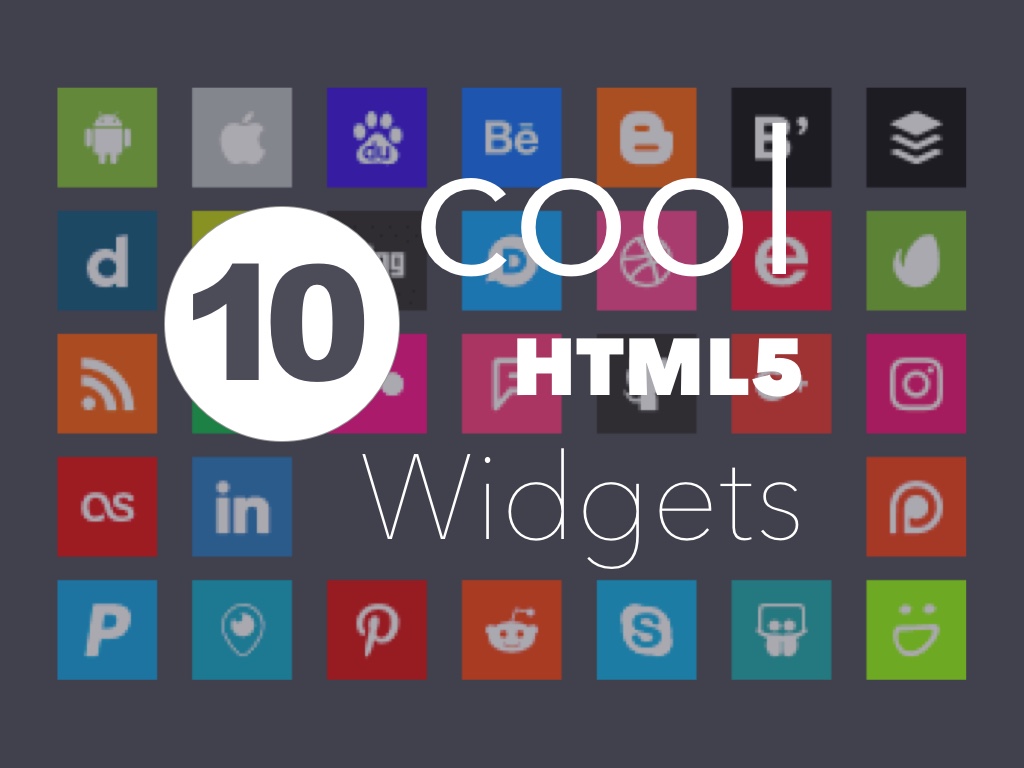 With HTML, developers have built better widgets as the language now includes more elements and building blocks. This article will go over 10+ cool HTML5 widgets and how you can use them in your digital signage content with Play Digital Signage. But first, let's talk about what HTML5 widgets are.
HTML Widgets: What are they?
HTML widgets are self-contained pieces of content that can update and run independently of your screen's other content. They can be any kind of content from live social media feeds to the current weather forecast. 
Widgets can be placed anywhere in your content and blend seamlessly. As we have discussed, there are many widget options, most of which can integrate with Play Digital Signage; you just have to find the ones that will best work for your project.
Where can you find HTML widgets?
There are both free and premium HTML widgets, but the best way to find them is to go to your favorite search engine and search for the topic you are looking for with an HTML widget at the end. For example, if you are looking for a widget for live weather updates, you could search "live weather HTML widget". 
There are so many different widgets; you'll surely be able to find one you are looking for. To explore free widget options, simply search for "free HTML widgets", several options in all different subject areas will show up.  Widgets can be a useful tool for your business as well. 
How can HTML widgets help my business?
Since HTML widgets are used in all sorts of fashion, there are several ways that they can help your business. Some of the most significant ways they can help your business are increasing engagement, sales, and functionality. 
Increase Engagement with HTML Widgets
Widgets are designed to be interactive or at least capture attention with interesting or up-to-date information. When placed into your content, this increases engagement among your customers. Interactive screens such as tablets can further increase engagement if it is conducive to your situation.
Increase Sales with HTML Widgets
Widgets allow for an increase in sales because they will enable you to tell a better story about your product or service. For instance, if you sell a product on amazon, you could have a widget that brings your amazon product reviews right into your content, making more people buy because they know it is a great product. 
Improve Functionality with HTML Widgets
Several widgets can improve the functionality of your content. For instance, if you want to integrate social media, widgets are a great way to do that seamlessly. There are many ways to use widgets to your advantage when designing content. 
Let's go over some of the coolest free HTML widgets you can use in your digital signage. Trust us; there's something for everyone. 
10+ Free Cool HTML Widgets
Google Reviews
Nowadays, Google Reviews are essential to customer decision-making. With the Google Reviews HTML widget, you can bring your company's google reviews into your content.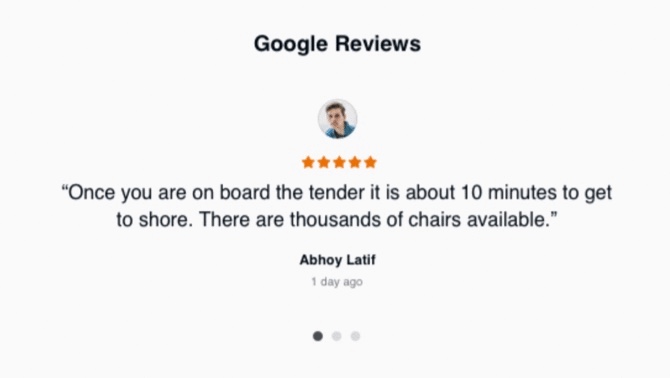 Have them displayed near the product you are trying to sell or in the product demonstration. Increase buyers by using the google review HTML widget in your digital signage content. 
A great Google Review widget can be found at Elfsight
Pricing Table
The Pricing Table widget is the perfect widget for customizable pricing menus.
You'll find multiple providers offering Pricing Tables, we added an example from Elfsight, check it out. Searching the web will reveal plenty of awesome examples like Speckyboy or Widg.io.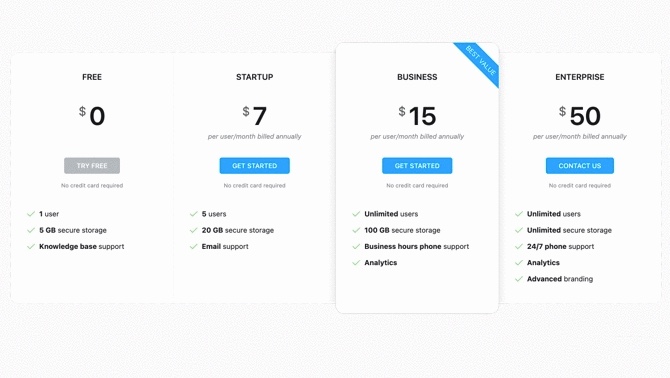 It gives your customer an easy layout to compare different plans or products all in one place. Add several other elements to the pricing tables, such as features, payment options, and even photos. 
Restaurant Menu
No matter if you are an owner of a nice cafeteria, a healthy gastropub, or a fine dining restaurant, creating a menu is not complicated anymore.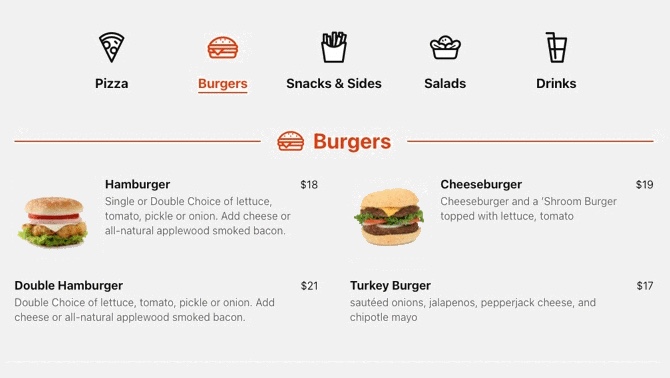 A one-page list or a great choice of meals, divided into sections or even a whole bunch of different menus. Choose the best variant and form a mesmerizing menu providing as many details as you need: images, pricing, captions, nutritional info, and many other features.
We've made a step-by-step guide for Elfsight's Restaurant Menu.
QR Code
Everyone has a smartphone in their pocket now, and what better way to get your information into your customer's pocket than a QR code? QR codes are scannable codes that can open almost any information that you connect to it right on someone's phone. Put them into your digital signage for a great way to distribute digital menus or a link to buy your product. The QR code options are endless.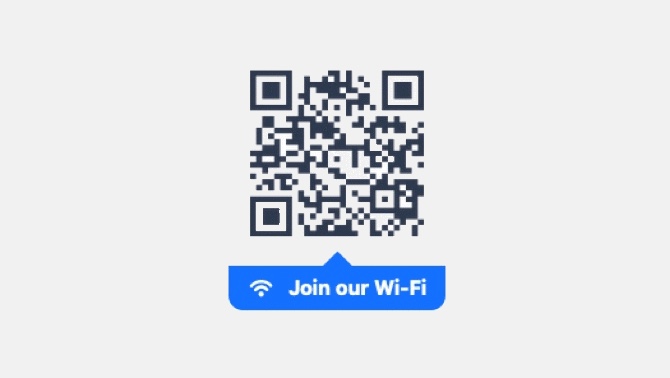 Great QR code widgets: Elfsight
Social Media: Feeds and Icons
Social Media feeds are an excellent way to show off all the great content you posted to your social media accounts. There are HTML widgets for every prominent social media application. They allow you to put your live feed into your digital signage content. 
There are also widgets to be able to have icons that link directly to your social media pages.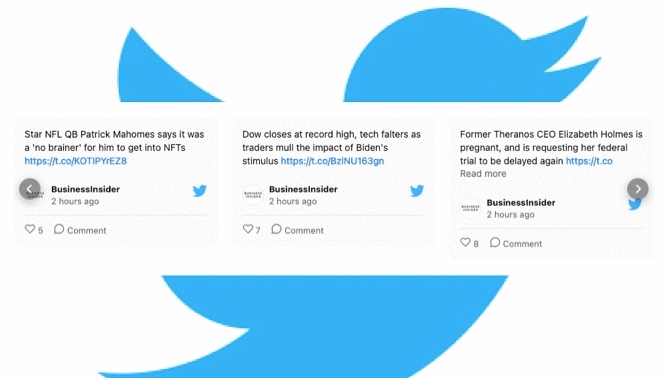 Though the social media feeds can be used on just a display screen, the links are a good option for interactive digital signage screens such as tablets. Some common social media platforms that are available as HTML widgets are:
Tik Tok
Instagram
Youtube
Twitter
Facebook
Find social media feeds and icons social media icons.
Up To Date Financial Widgets
The stock market is crazy these days, with sudden changes happening by the minute. Some great graphical HTML widgets will display live, up-to-date stock market analysis right in your content. Financial widgets could be great for a coffee shop with an executive clientele or an office whose business depends on the stock market. 
Advanced Chart Widget
One specific great one is Advanced Chart Widget. This widget has a graphical analysis that is customizable to what you want to show. There are several settings in this widget that you can change to ensure that the graph shows exactly what you want. This can also be turned into an entire stock market analytics area if you want. 
Ticker Widget
For a more simple glance at how markets are doing in real-time, you can include the Ticker Widget. The Ticker Widget is a quick glance at how the different markets are doing and simply shows their trend up or down as well as the symbol you have set for them. 
Crypto Widget
While we are on the subject of financial widgets, another alternative option that is becoming very popular is the Crypto Widget which shows up-to-date ticker information about the current values of cryptocurrency such as Bitcoin. 
Team Showcase
Show customers why they should have trust in your business. Providing information about your team and even a photo or the team member's favorite quote can do a lot towards building trust with your audience. They want to know that they are supporting real people.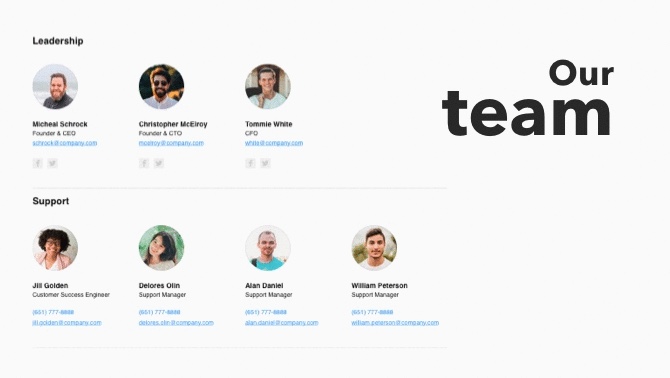 You can also include your team's credentials to show that you have capable staff to help your customers with their needs. Additionally, it helps customers know which member of the team they can reach out to in order to help them with their problems.
The above examples are from Elfsight.
POP UP
Even though we do offer gorgeous animations that could be used as a pop-up you might want something that is managed outside play. If that's the case you should look at Elsight and WIDG.io.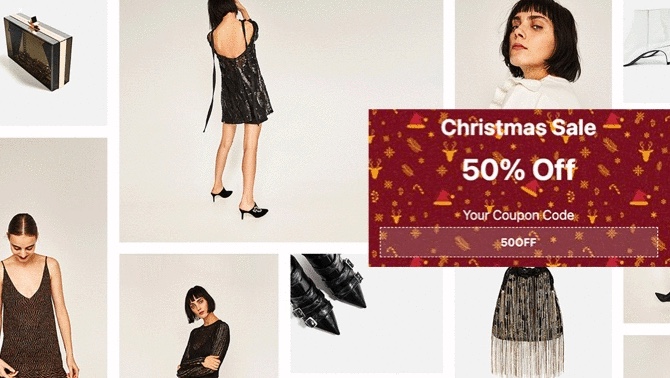 Before and After image slider
If you are a business that "makes" things prettier or perhaps remodel houses, paint cars, or similar you might find this one fun to play with.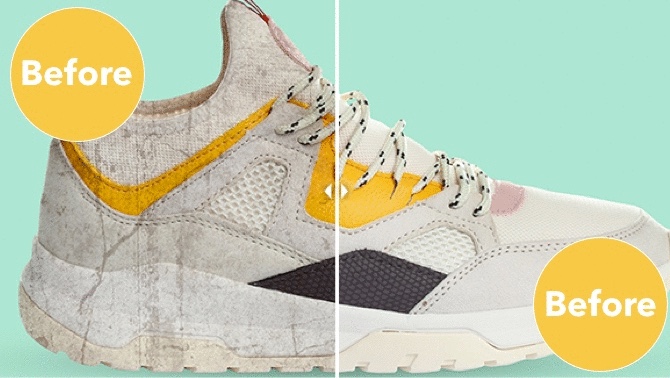 This plugin is available at multiple providers and could make it easy to display what you do – Let your imagination wander.
Help with HTML Widgets
At Play Digital Signage, we want you to have the content exactly how you want it, and we know that sometimes you need a little bit of help to do that. So we have a frequently asked questions section that can help you with all things HTML widgets. 
RSS.app is a great alternative to our RSS Ticker as they provide a bunch of awesome feeds like witter, Google News, Reddit, Facebook, Youtube, Telegram, Pinterest, eBay, Tumblr, NYTimes, CNN, USA Today, BBC News, Washington Post, Vogue, CryptoCurrency News, Yahoo, Sky Sports, Reuters, Fox News, The New Yorker, ESPN, CBS Sports, NBC Sports, MLB.com, NHL.com, Sports Illustrated, CNN Business, CNET, TechRadar, World Health Organization, Al Jazeera and lots more.
Is there something you need help with but can't find on our website? Contact us anytime! We have a 24/7 live chat feature on every page of our website, too, so you can get the help you need no matter the time. 
Do you have a more complicated HTML project that you need help with? Book a live demo, and we will show you the ins and outs of the entire Play Digital Signage editor, including how to use HTML widgets. At the end, we will go over your project specifics. This is a great way to learn about all of the things you can do with HTML widgets and the rest of the editor features. 
Get Started With Play Digital Signage
First, sign up here. We will ask you for some basic information, and you'll gain access to our content management system with a built-in editor where you will be able to add any of these HTML widgets. 
Then you'll pick a screen. This can be a tablet or a TV, but there are many options as we support almost any screen for your convenience. Big or small, it is up to you.
Finally, find a player. There are a lot of options when it comes to players as well, but we have tested some of the best in every price range so that you don't have to. Learn more about how to find a player here. 
Keep in mind, there are some devices that work as both a screen and a player, like an Amazon tablet. A combination device could be a money-saving option for those just getting started or if you need multiple screens. Tablets are also a great option to use interactive widgets such as the social media icons we discussed. 
As you can see, there are so many different customization options when it comes to HTML widgets. From the basics such as displaying the current time to live score reporting, the options are almost endless. And it is easy to get started today. Implement HTML widgets into your digital signage with Play Digital Signage for a great, creative content boost!