Features.
Focus on what's important. With the most advanced digital signage editor
on the web and many more powerful features, you won't need anything else to make things happen.
Your content: at home in the editor.
Design beautiful playlists without leaving our editor.
Mix any content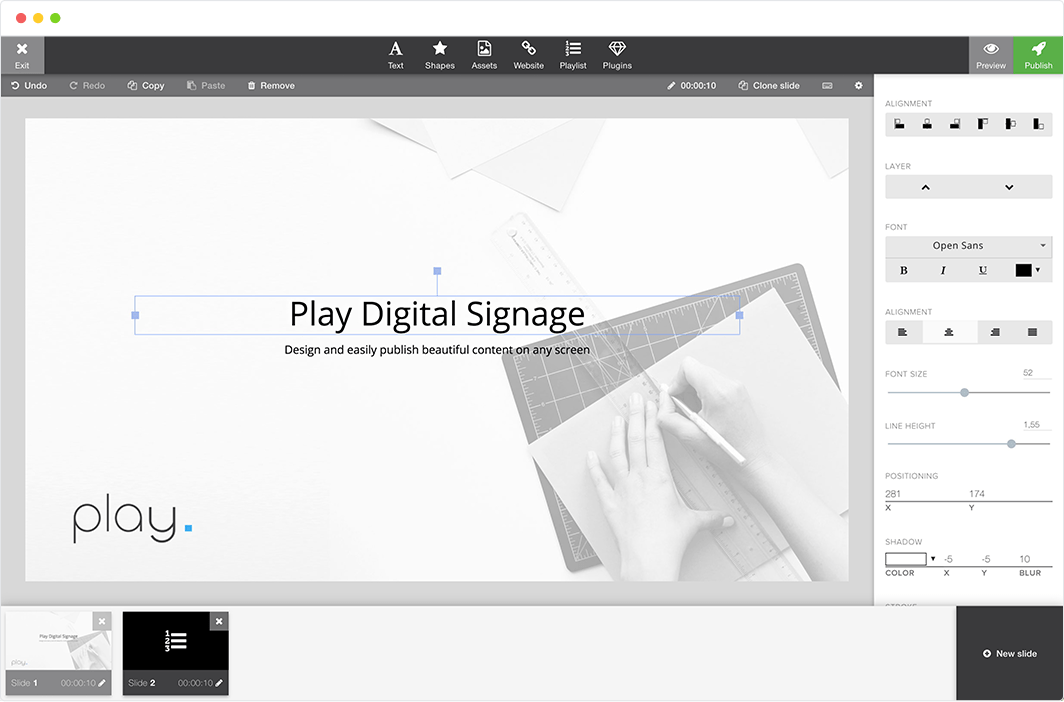 Basic shapes, custom fonts, images, video, YouTube or even websites, the Play Digital Signage editor can handle it without a sweat.
Powerful tools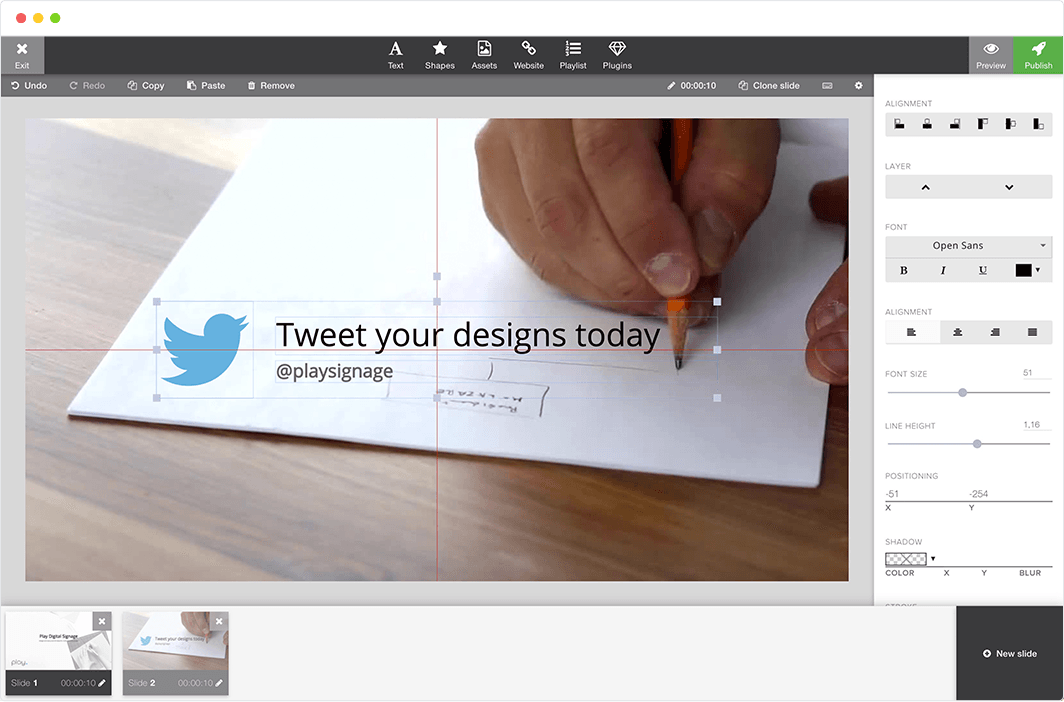 You'll be able to customize everything about your media files. Our guide system will make sure everything is aligned and looks sharp.
Manage everything about your screens.
Setup screens in seconds
We've made the screen pairing process effortless and intuitive.
Our customers typically go from creating an account to adding a screen in under 1 minute.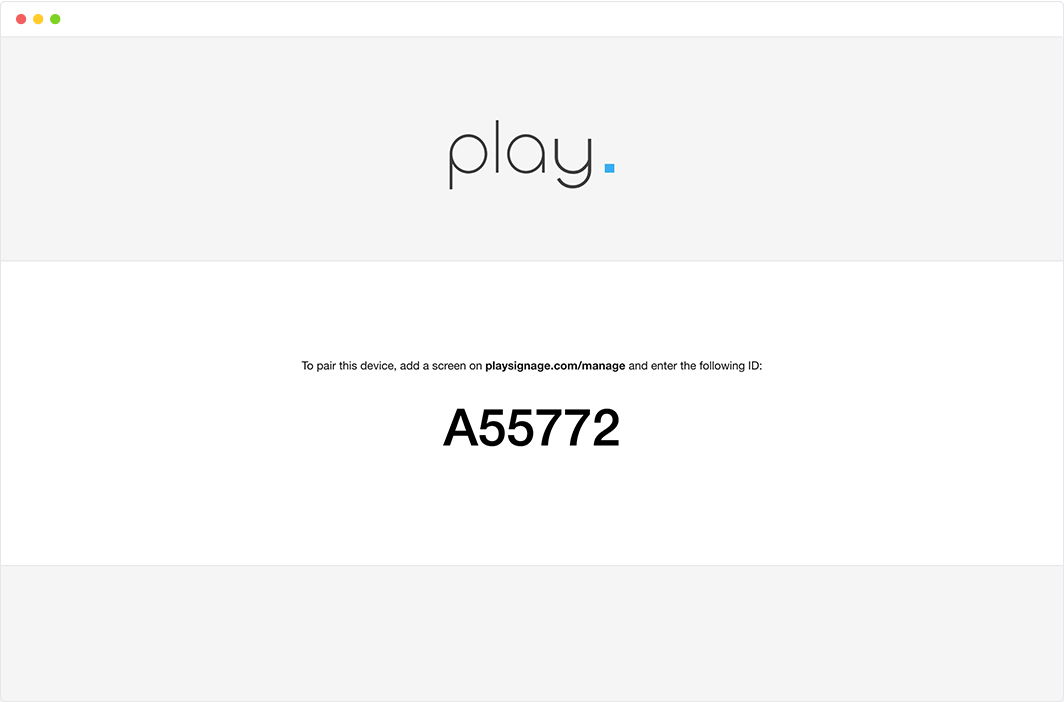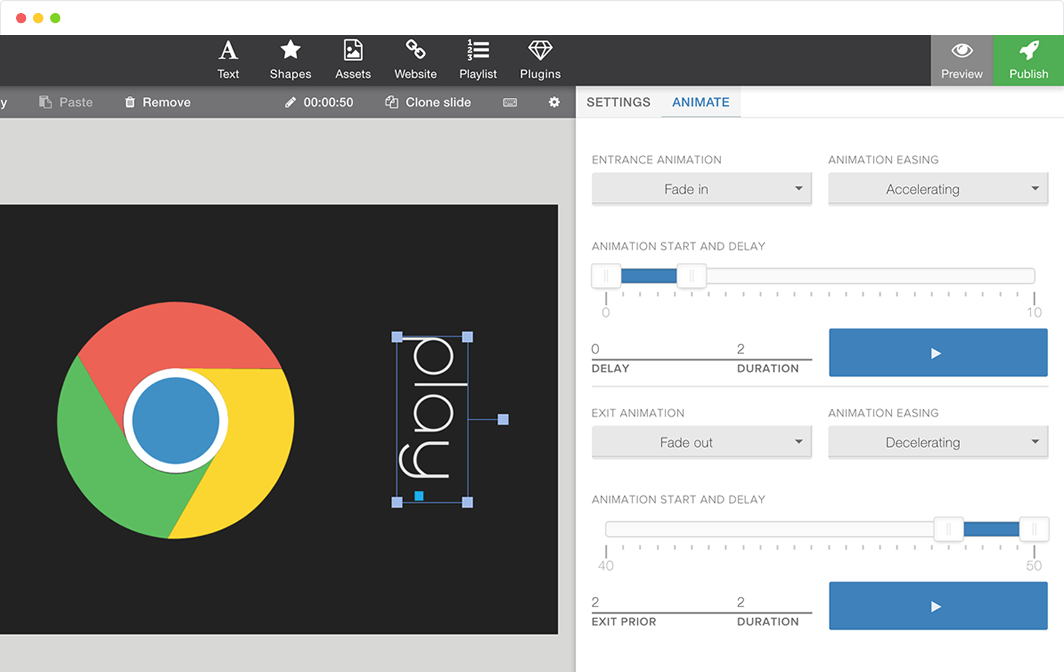 Slide element animations
With animations, your content comes life. Apply to rotate, zoom, fade and many more effects to slide elements: it's all smooth and stylish. Just bring your creativity and our editor will do the rest.
Use zones or template areas
Re-use content and split your screens into zones that function separately from each other.
Choose from our templates or design your own.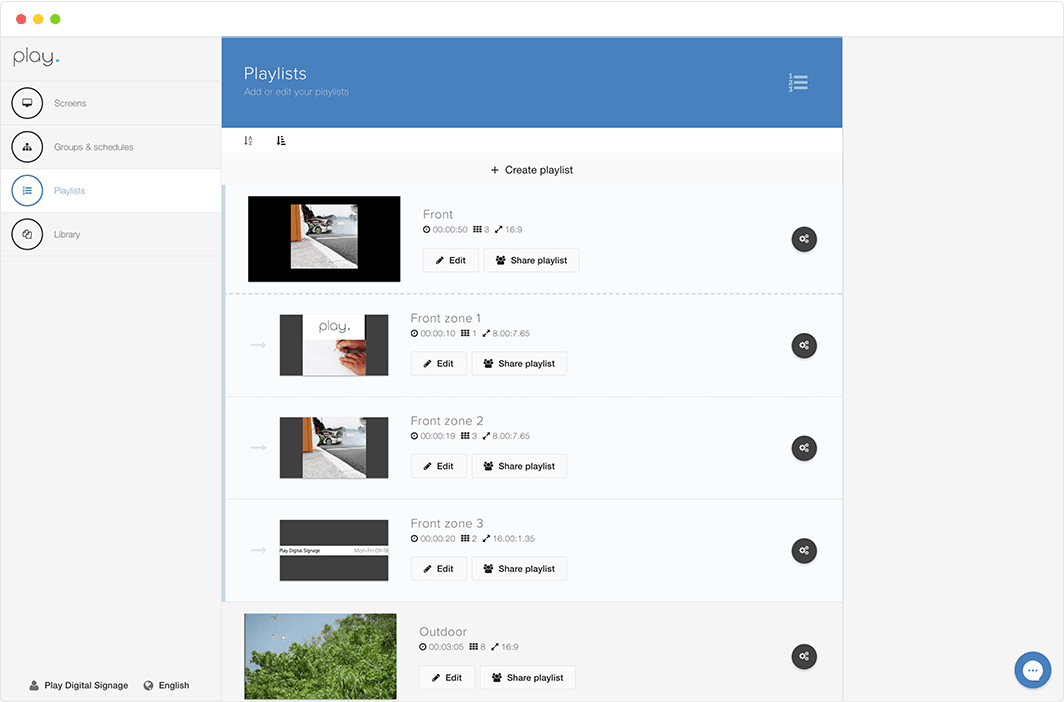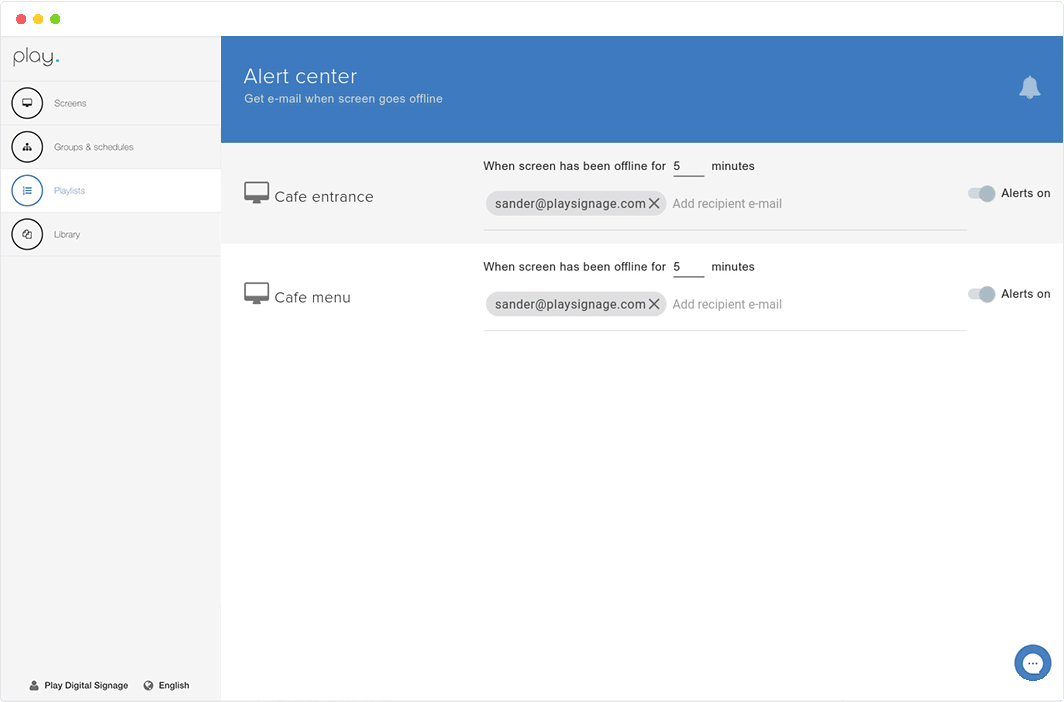 Set up alerts
Get notified by e-mail when your screens go offline.
Add as many notification recipients as you'd like!
Design for any resolution
Portrait, landscape and anything in between. From powering pylons to popular smart TVs, we got you covered.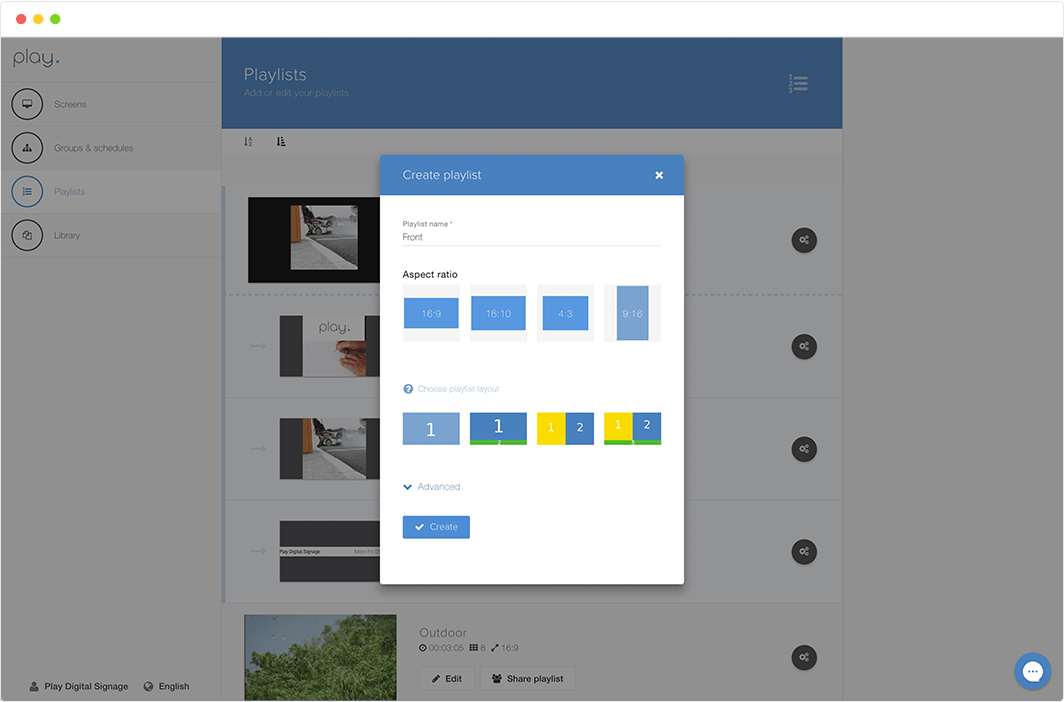 Set up schedules, sit back and relax.
Basic schedules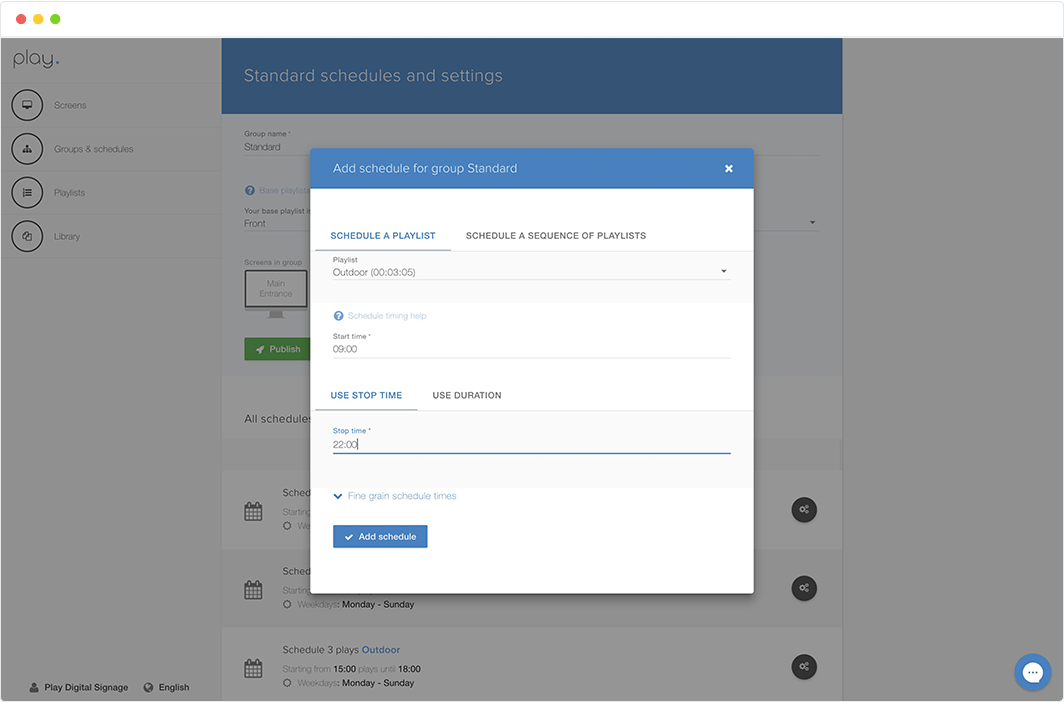 Your content scheduling was never easier to set up. Show meeting times in the morning, canteen menu for lunch and a video of your latest product in the evening.
Grouping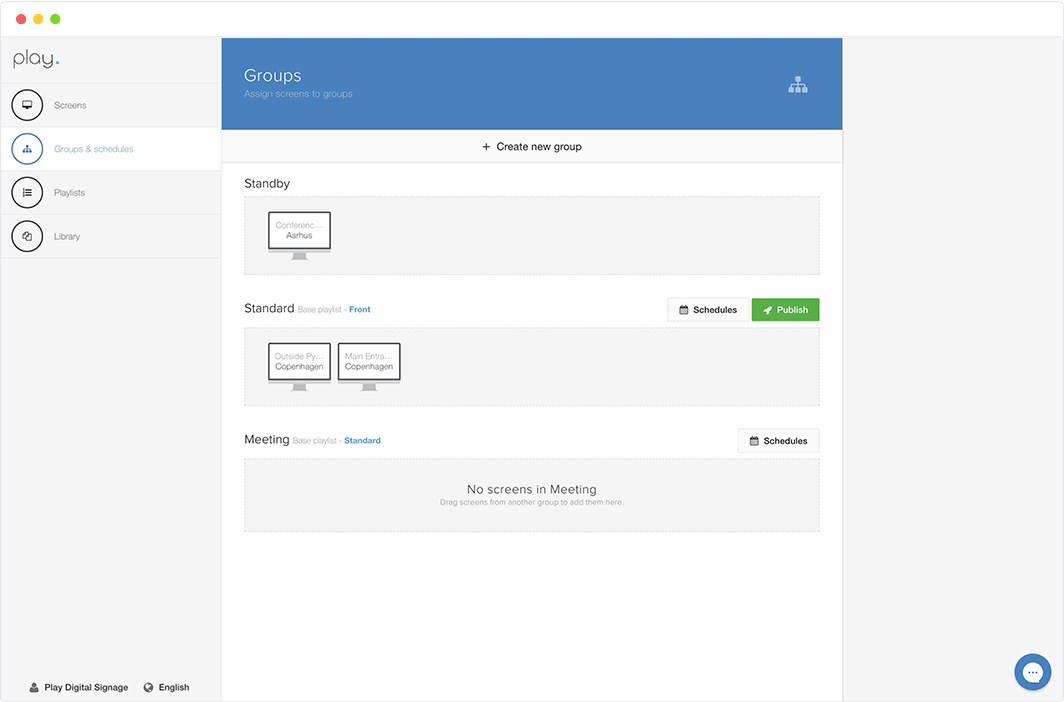 Play or schedule the same content on multiple screens by grouping them. Make as many groups as you need and drag screens between them.
Automatic conversion
You won't need other software to get your files in.
No matter what image, video or rich text formats you have, chances are that we'll be able to convert them.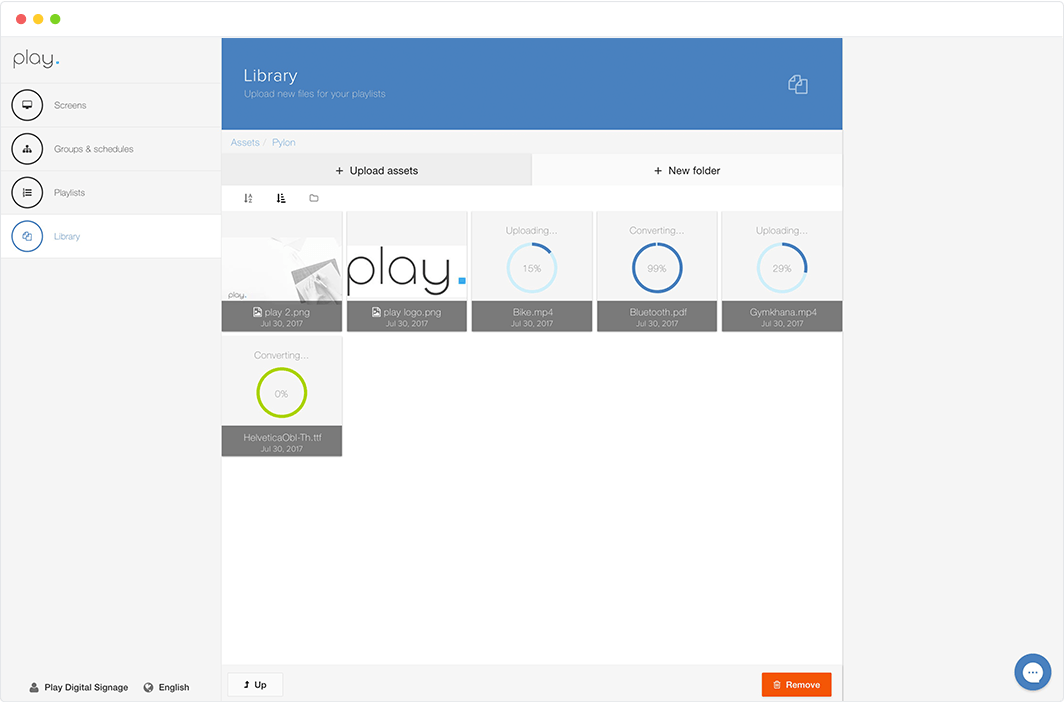 We support: jpg, jpeg, png, tiff, gif, svg, pdf, ppt, pptx, key, mp4, mkv, avi, mov, mpeg, mpg, ttf, woff, m2ts, mxf, mts, ogg, m4v, 3g2, dv, 3gp, 3gpp, vob, webm, wmv, flv, swf, mp3, wav,, m4a, .eps, .zip, flac and we are working on even more formats! Find all formats Library support page.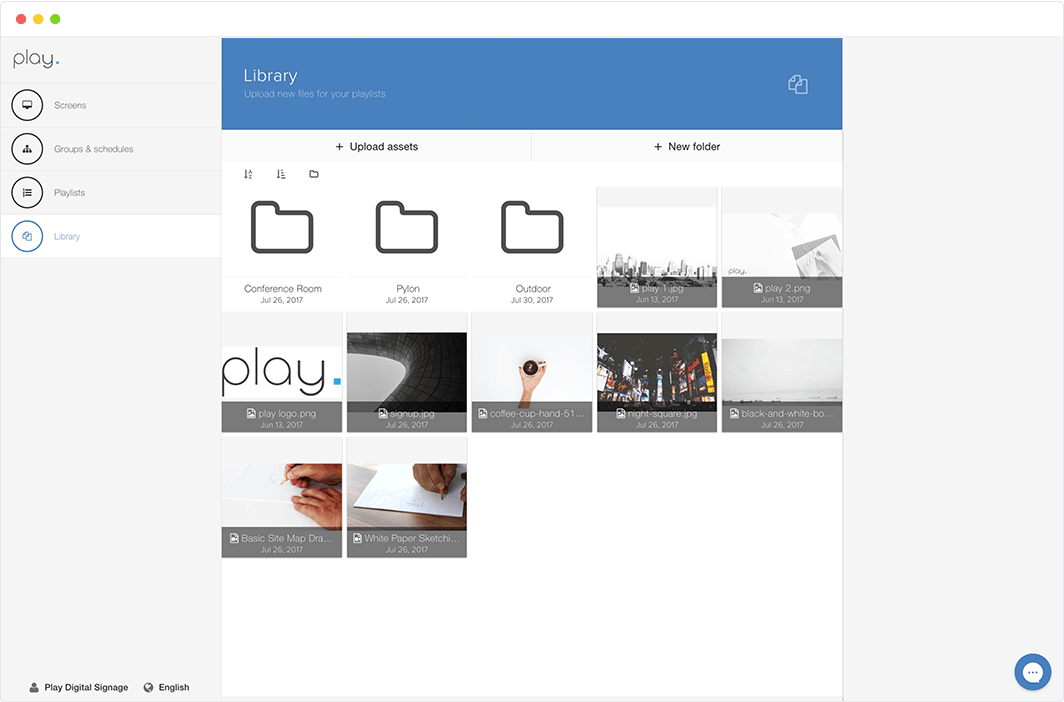 Always find what you need
Use folders to keep your media files organized, sort, preview or quickly search for what you need.
Slide stash
Store slides for later use.
Stashing slides makes it easy to save, re-use and move your slides between your playlists.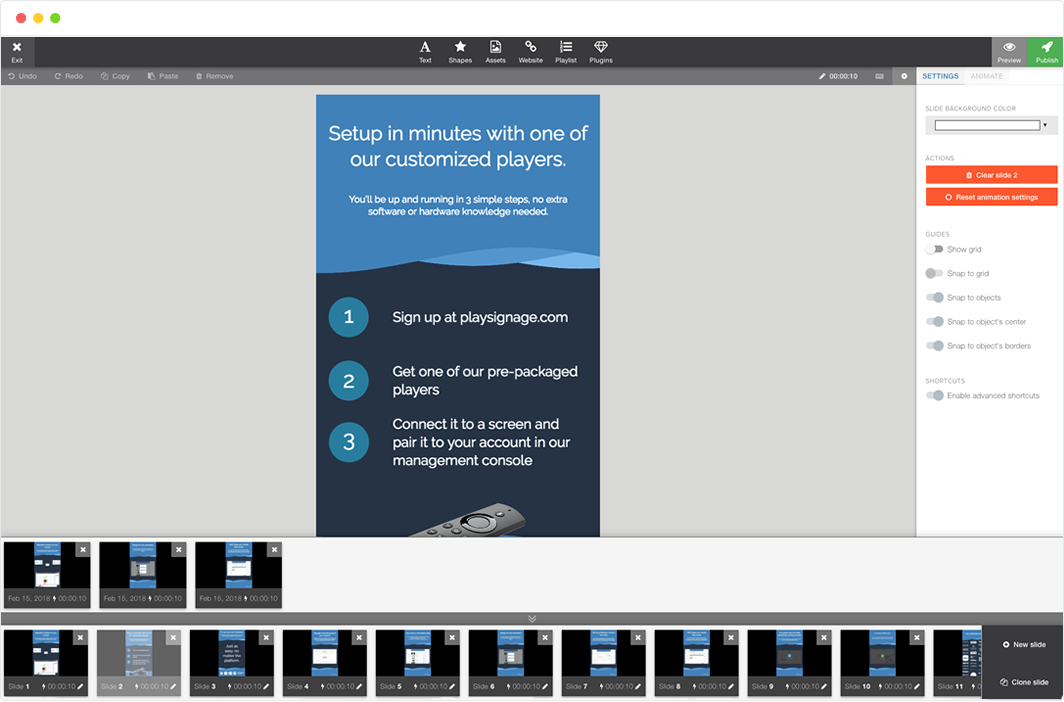 Two-Factor authentication (2FA)
Two-Factor Authentication (2FA) is also known as multiple-factor authentication. In simple terms, it adds an extra layer of security when you log in at playsignage.com. The first layer of security is your username and password. Adding one more step of authenticating your identity makes it harder for an attacker to access your data.
Analytics (Proof of play)
Analytics can tell you how many times and for how long a specific asset has been playing. How you want to see the data is up to you, as we've provided several different rapports to chose from.
You can read more about how analytics works and how to activate it right here.
Sharing playlists – Share your playlists with someone external – your graphical designer, manager or receptionist.
Teams – Build your team with multiple users having different roles.
Use your own font – You can upload your own fonts and use them in the editor.
Touch Screens – Interactive functions for touch screens offering you the opportunity to build an interactive experience for your viewers and keep them engaged.
Drag and drop screens – Swiftly move screens between groups to easily change content on your screens.
Randomize slides – Displaying images might get more interesting if they don't show in the same order.
Snap to grid – Designing content gets way easier when having a grip, that way your text, figures or other objects always align perfectly!
Shadows –

 

Make text and figures stand out a bit more by adding shadows.
Shapes – You can insert different shapes like circles, squares, etc.
Icons – We have made it easy to add icons, the repository offers many icons like tools, coffee, mobile, LinkedIn and many more. All icons are .png making it possible to change color easily.
Playlist in a playlist – In addition to creating zones you can also add an existing playlist inside another playlist.
Remote controlling players – Control settings of the player directly from the web portal.
Download progress – Lets you know when your player has downloaded new content.
Slide transitions – Keep things alive by adding entrance animations to your slides.
Slide conditions – Add conditions to a slide to play it only in a specific date range – optionally also delete the slide when the condition expires.
Preview – It might be a good idea to see how your playlist performs before publishing it to all of your screens.
Keyboard shortcuts – For those who like shortcuts, you can use multiple shortcuts to move objects precisely.
Clone slides – Build a great slide and simply clone it to the next slide.
Upload images from URL – No need to download and upload your images, video, etc. from your desktop, you can simply upload by URL.
A sequence of playlists – You can schedule a sequence of playlists.
Multiple screen support – For Windows, MAC OS and Linux the app lets you choose which screen content is displayed on.
Advanced file structure – Selecting multiple files, moving files from one folder to another folder.
Remote clear cache – It makes it possible to clear the cache on your player remotely.
Create slide per asset – Go to the library, select your photos and click create slide per asset. You have the option to choose how to insert the photos, the background color, transition and duration of slide.
Our player app will keep everything running smooth.
Automatic updates
You won't have to break a sweat, we'll keep your players secure, fast and with the latest features.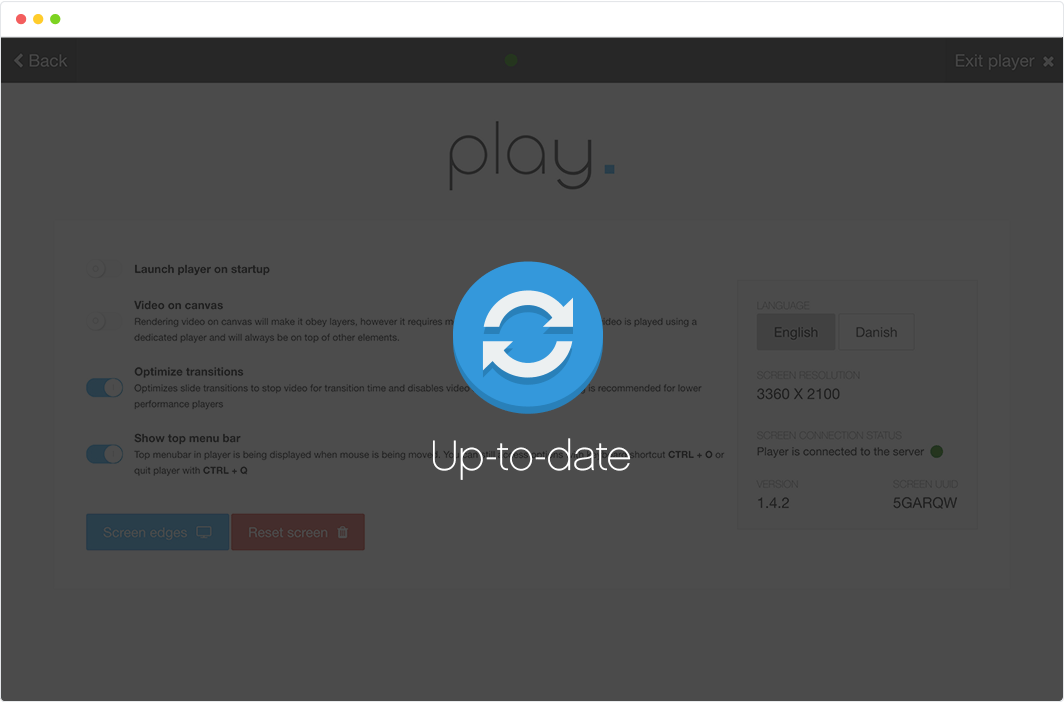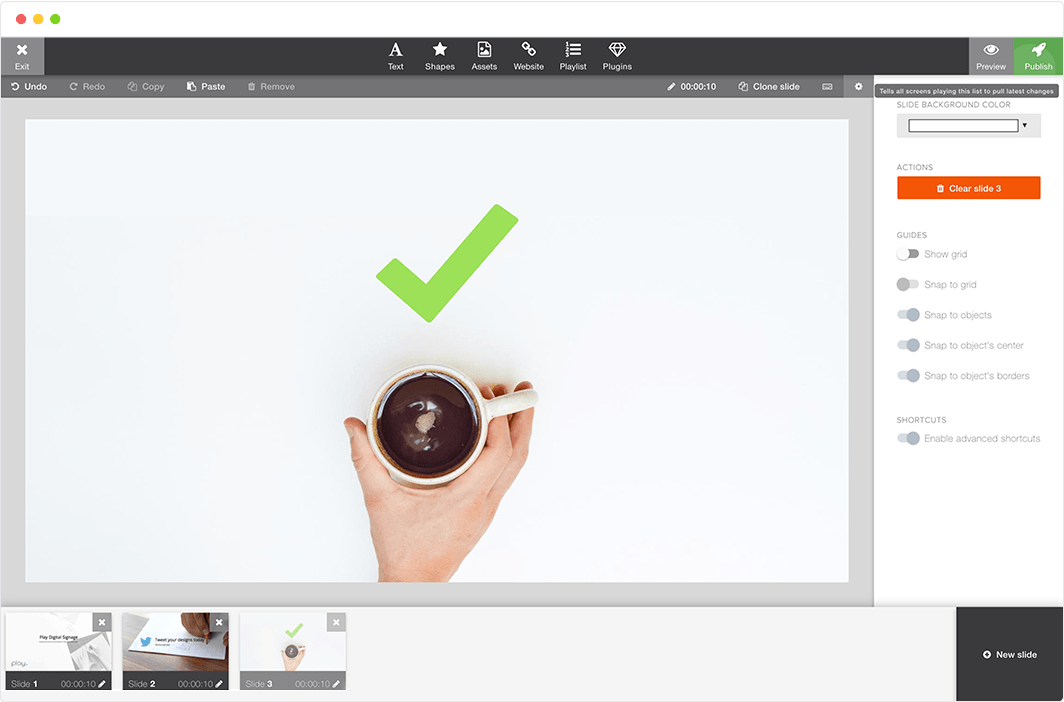 Live publishing
Push content to any paired player in an instant.
It works offline too!
After you first publish content, everything is cached so you can
play it even without an internet connection.